Why
Our trainers use the latest DNA testing techniques to build your nutrition and training programs offering results that cannot be matched.
AWARDS
Our trainers have been recognized by the fitness industry, bodybuilding organizations, health organizations, their peers and their clients for the excellence of their programs and the results they achieve.
TESTIMONIALS
Want proof? Review dozens of our client testimonials to find out how our trainers have helped people just like you! Click to learn more.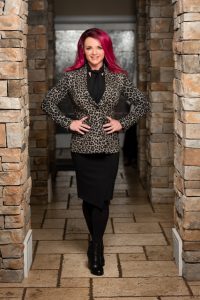 IFBB PRO | "DNA" DIVA
"I love building bodies…the healthy way. "
Carmen Tocheniuk is a 3 time Canadian body-building/physique champion and an International Federation of BodyBuilding (IFBB) PRO. She is a leading and respected personal fitness trainer and nutritional coach, and was one of the first in the world to use DNA testing with her clients to improve their health and fitness results. Carmen became involved in fitness to support her recovery after a devastating car accident as a teenager that left her with a broken back and in a body brace for a year. She discovered Karmalife DNA testing in 2005 and has used it since to support her championship wins and her work with her clients. She is dedicated to helping people maximize their diet and fitness results through DNA knowledge. Please contact Carmen to book your personal health and fitness consultation.
Carmen aka "the DNA Diva", is a pioneer in the DNA industry. She discovered DNA testing in 2006 and was one of the first in the world to use it with her clients to improve their health and fitness results. Carmen was instrumental in the development of DNA testing for diet and fitness as she worked closely with a number of scientist as this incredible technology was launched here in Canada. She is a foremost international expert on developing custom diet and fitness plans for clients based on their unique DNA.
Carmen's Figure Skating:
Feb 3 1993 – Carmen Tocheniuk is part of the Whitecourt Figure Skating Club which has had a very successful season
Carmen's First Fitness Competition:
Nov 20 2003 – Carmen Tocheniuk takes part in a fitness competition Nov. 15 at the Citadel Theatre in Edmonton fulfilled a lifelong goal and now she can't wait for her next event…
Carmen Wins Silver at Nationals
Aug 1 2004 – A local bodybuilder is quickly climbing the ranks of the Canadian body building circuit and has recently fortified herself as one of the best in the country. Carmen Tocheniuk competed in provincials, June 12 in Edmonton, posing her way to a gold medal.
Runner Up at Women Physique World
Apr 1 2005 – Runner-up Carmen Tocheniuk of Whitecourt, Alberta, showed a remarkable delicate muscularity with just 109 pounds on her 5-3 frame.
Carmen Featured in Muscle Mag
Jun 1 2005 – After her second place result at Women's Physique World.
Muscle Mag Spring 2016
Mar 21 2006 – Regardless of the criteria, the attractive and sleekly muscled Carmen Tocheniuk (AB) would be very hard to miss in a lineup. I have difficulty discerning any pattern of consistency in picking the winners of women's competitions. One time the winner may be thickly muscled and defined, while another, symmetry and shape are the main considerations. This year's lineup of lightweight women includes all ranges in this scale.

Women's Physique World 2006
Apr 1 2006 – Bodybuilder or not, Carmen Tochenuik turns heads, she may only be 5-3 and tip the scales at a diminutive 109 pounds, but her look is striking and about as marketable as it gets.
CBBF Women'sHeavyweight 2009
Muscle Mag June 2006
Jun 1 2006 – Carmen Tocheniuk talks about her lifelong dream of being a body building champion. "I honor those who dare to dream. Without dreams you have nothing." That is what petite muscular Carmen Tocheniuk was quoted as saying in her local paper after arriving home from last fall's 2005 Canadian Championships, where she was declared the winner of the lightweight category.
Local Weight Lifter Brings Home Sage Advice About Sports
Oct 10 2006 – Carmen Tocheniuk gives out fitness advice to clients as a trainer and says that being a bodybuilder keeps her more in control of her own eating habits. "When Carmen Tocheniuk steps on the scale, there's not a lot of numbers. That's because the 5'3" 109-pound Whitecourt native is a professional female bodybuilder.
Muscle Mag April 2008
Apr 1 2008 – The most remarkable transformation came in the splendid physique of Carmen Tocheniuk (AB), the '05 winner. "For the category that was supposed to be eliminated, there were some pretty impressive lightweight women on the stage. The caliber of athlete was high and competition intense. Heather King (ON), the 2006 winner, could manage only a third-place finish.

Muscle Mag October 2008
Oct 1 2008 – Canadian lightweight women's bodybuilding champion, Carmen Tocheniuk, found out the hard way at the 2006 Canadian Bodybuilding Championships that size often doesn't matter. "Alberta's sultry 2005 Canadian lightweight women's bodybuilding champion, Carmen Tocheniuk, found out the hard way at the 2006 Canadian Bodybuilding Championships that size often doesn't matter. She bulked up and entered the heavyweight category only to find the extra weight destroyed her once-crisp muscularity and superb symmetry.
Won Canadian Women's Middle Bodybuilding Title Aug 2011
Carmen Wins Lightweight at Canadian Nationals Apr 1, 2012
Insider Magazine
April 2012 – Our own Carmen Tocheniuk walked away as the middle weight winner.
Canadian National Bodybuilding Championship in Edmonton
Aug 20 2012 – A horrific car crash wrecked Carman Tocheniuk's body 19 years ago, paralyzing her from the neck down. On Saturday, she took to the stage showing off her physique at the Canadian National Bodybuilding Championship in Edmonton at the Winspear Centre.
Carmen Tocheniuk Building Up Life
Aug 27 2013 – Carmen Tocheniuk, two time Canadian Nationals Bodybuilding Champion, owns a line of Wellness stores, and she invites anybody who wants to come and open an account. Today, Whitecourt's Carmen Tocheniuk is a two-time Canadian body-building champion, but it was a severe car accident at the age of 13 that sent her into the gym. She experienced a severe fracture to her spine and spent a year in a body cast. Spending that much tie dealing with such trauma made her realize how precious her life is.
Second Place for Devonian at National Competition
Sept 12 2013 – For Carmen Tocheniuk, a bodybuilder based out of Devon, a recent top finish was both an encouragement and a source of frustration. Tocheniuk, who took second place in her division at the Canadian Bodybuilding Federation Championship held in New Westminster B.C. in August.
Carmen's 2014 IFBB Pro Card Win May 17 2014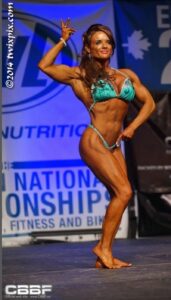 Carmen with coaches Brian and Donna Logue
Sept 2014 – My coaches for a decade that helped my entire bodybuilding career – Brian and Donna Logue. They are almost like second parents to me. They mean so much to me as they coached and guided me in my life much past a diet or bodybuilding. I am blessed that I got to work with them.
Womanition Conference – Oct 23 2015
Carmen's First IFBB Pro Show in Dallas- Jun 2016
Carmen and Coach Matt at First Pro Show – Jun 2016
2nd IFBB Pro Show Vancouver 2016
Carmen's 3rd IFBB Pro Show Tampa 2016
Carmen's 4th IFBB Pro Show San Antonio 2016